Vampire Forehead, Fangs and Blood
Evil Forehead, Vampire Fangs and Blood
Turn yourself into a vampire with our evil forehead. Made of soft foam latex, you'll be able to wear this appliance for hours.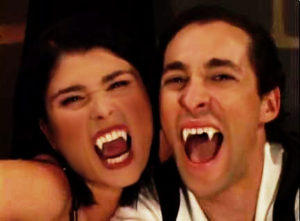 Add our dracula fangs for a traditional look.
Looking for a vampire that has perfect hygiene? Use our non-traditional vampire fangs ("Lucius") for a unique look.  These thin veneer teeth easily fit over your real teeth and can be refitted easily as needed.  While thin, they are also very strong.  Complete directions provided.
Add some blood and you're good to go!