Description
Evil Smile Lips
Cosplay the Joker at your next convention with this evil smile lip set. Sculpted by Hollywood artist, these lips will stay on all day using our prosthetic adhesive.  And because of it's design, you'll be able to talk, eat and drink.  In addition, our masks have extremely thin edges, so they can be easily blended into your real skin.  When applied properly, you won't be able to tell where your appliances ends and when your skin begins.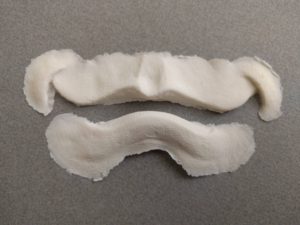 Comfortable to Wear
Our appliances are made of soft foam latex so they are comfortable to wear for long periods.
What Else Do I Need?
Adhesive to attach your appliance to your skin
Want More Information?
Download our FREE Foam Latex Appliances: Make-up Application Guide (PDF).  You'll learn how to attach your mask, apply the makeup, blend the seam into your real skin, remove and properly store your mask.