Description
Our "Gnash" teeth are movie quality teeth and work great for a Grinch™ costume.  Our teeth are extremely thin but also very strong. All of our teeth are custom fit and can be adjusted as needed.  A newer, more flexible material allow you to bend the teeth without using water!
High Quality Dental Grade Acrylic and Strong
Our teeth are made from a high quality dental grade acrylic and are thin but also very strong. They go over your real teeth and once fitted, won't come loose until you remove them. Hydroplastic, easily softened, is used to secure them to your own teeth.
Easily Re-fit
The hydroplastic pellets can also be re-softened so you can easily re-fit your teeth as needed.  Download our FREE fang/teeth fitting instructions.
Black Case Container
Your teeth come with a plastic black case container so you can easily store and protect your investment.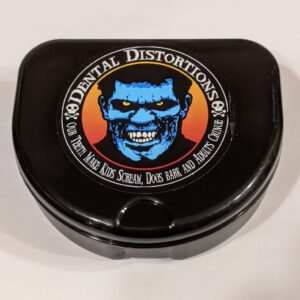 Want Custom Teeth?
Get an estimate by clicking on the button below or give us a call at (425) 260-8949.
Estimate